Listings are informational and neither a specific recommendation or endorsement by the Rochester Woodcarvers Club.
Rochester Woodcarvers Logo: Club member Rich Garrett worked to update our club logo and it is now available at Cannon Valley Specialties for use on anything they can embroider.
Cannon Valley Specialties
Embroidery – Screen Printing – Tanning – Gifts – Video
114 N. 4th St. (across from the bakery)
Cannon Falls, MN
507-263-2338
cvclothing@hotmail.com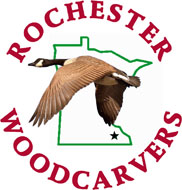 ---
Minnesota Woodcarving Club web sites:
Other carving web sites:
The following links are helpful for beginners and kids:
The following links are interesting decoy carving sites:
WOOD magazine home page and carving discussion group:
Woodworkers Guild of America: delivers the highest quality woodworking video techniques on the Internet and includes more than 300 free video clips as well as articles and tool reviews.