Listings are informational and neither a specific recommendation or endorsement by the Rochester Woodcarvers Club.
Clothing with the Rochester Woodcarvers Logo: Cannon Valley Specialties has our logo and can apply it on anything they can embroider. At this time they are not able to handle our requests. We are currently looking for other options.
Cannon Valley Specialties
114 N. 4th St. (across from the bakery)
Cannon Falls, MN
507-263-2338
cvclothing@hotmail.com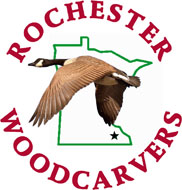 ---
Minnesota Woodcarving Club web site:
Other carving web sites:
The following links are helpful for beginners and kids:
The following links are interesting decoy carving sites:
Carving related magazines:
Woodworkers Guild of America: delivers the highest quality woodworking video techniques on the Internet and includes more than 300 free video clips as well as articles and tool reviews.