Welcome
to the
Rochester Woodcarvers!
The Rochester Woodcarvers Club is a gathering of individuals interested in woodcarving. Everyone interested in woodcarving is welcome whether they are just interested in learning about woodcarving, are considering starting to carve, or are beginner, experienced or master carvers.
---
Festival of Trees – Gingyville is looking for residents
The deadlines for Festival of Trees decorations are coming soon!
Deadlines, requested pieces, dimensions, guidelines and some ideas are on the 2021 Festival of Trees page – here.
---
Wednesday Carve-in Resumes
See details on the Meetings page.
---
Join us at the next meeting of the 2021-2022 season
Visitors welcome!
For meeting information and location check out the Club Information menu.
Up coming Meetings & Speakers
November 20: Caryl Closner – Scroll Sawing *Delayed 9:45 Start Time*
December 18: Holiday Potluck (if safety rules allow) *Delayed 9:45 Start Time*
January 14: Intarsia
February 19: Kevin Ewing. He does carving as well as commissioned furniture making.
March 19: Randy Kinnick
March 26 & 27: Annual Free Show at 4H Building
Please invite your spouse, family, friends and neighbors to our meetings!
Remember to bring your "Show and Tell" items to let us know what you have been doing!
---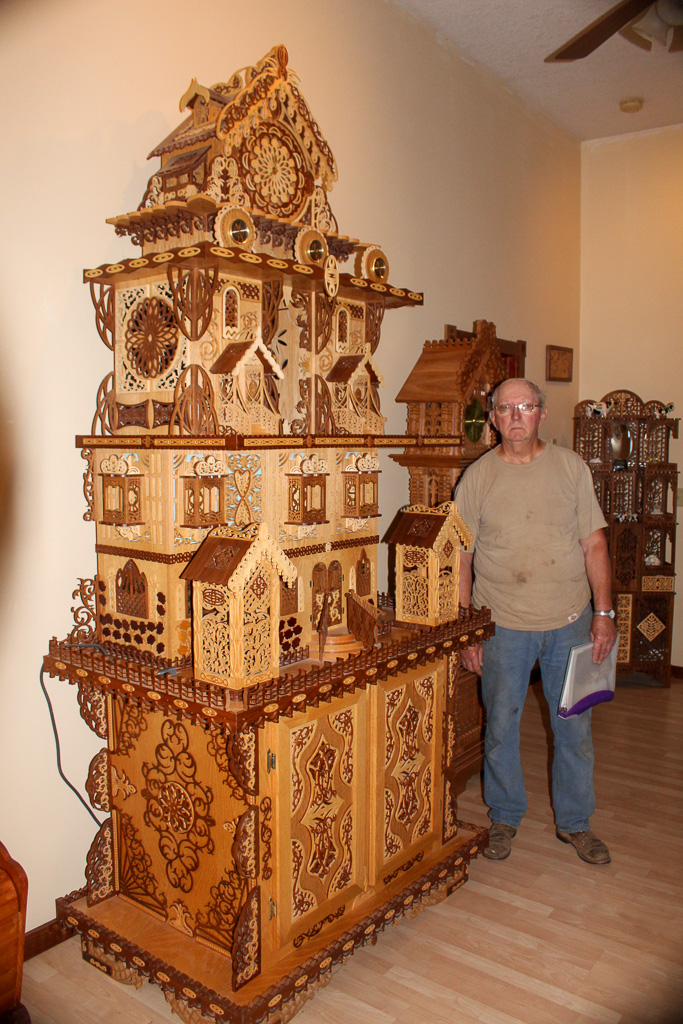 November 20: Caryl Closner
The art of scroll sawing to master works of art!
NOTICE: Starting time delayed 9:45 – door opens at 9:15
Masks required for all people
Caryl began his journey into scroll sawing with a coping saw at the age of 10.  At 11 he made a trip to Spillville IA with his mother and grandparents to Bily Clocks Museum and was hooked.
Growing up on the family farm east of Oronoco, serving in the military, returning home to farm and milk cows he found the time to perfect his skill of scroll sawing.
Caryl has his own saw mill and dries all his own wood harvested within a 10 mile area of his home.
Caryl works with Walnut, Oak, Cherry, Maple and other specialty hardwoods. All his pieces are left natural and only clear coated.
The library will also be back.
Return your books & checkout new ones.
---
2021 Potluck Picnic Photos
Photos of the annual summer picnic can be seen here: Club Events > Picnics
---
Our Virtual Show is still available for viewing
Since we could not do our Annual Show in person, we have put together a Virtual Show with many of our regular features. Please come and enjoy the projects that our members have created. Results of voting for People's Choice are included on the People's Choice table.