2011 Rochester Woodcarvers Tree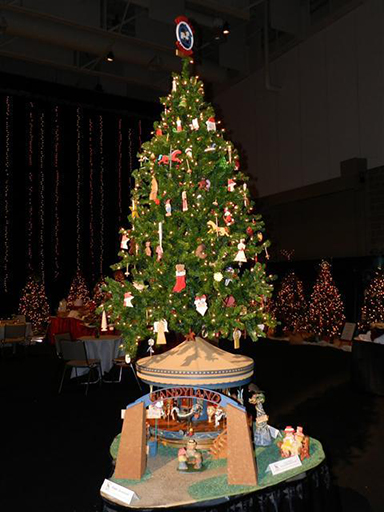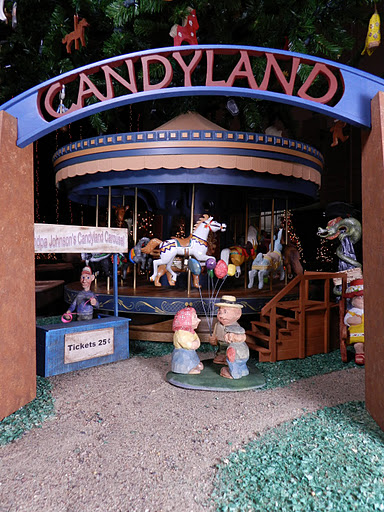 The 2011 Hiawatha Homes "Festival of Trees" was held November 23-27, 2011 at the Mayo Civic Center in Rochester, MN.
The Rochester Woodcarvers created a "Candyland Carousel" project for the Festival of Trees and Hiawatha Homes offered it to the public as a raffle item.
The carousel is an operating model, 28″ in diameter with 16 animals on the rotating platform. As the platform turns, the animals move up and down with brass poles supporting them. The carousel is placed in the "Candyland Park" that has a collection of items that you might find there such as a ticket seller, a family visiting the park, two "Red Hat" ladies relaxing on a park bench, and a dragon holding a "Gold Ring" waiting for the brave rider to take it…
The carousel acts as a tree stand and supports a 6′ tree decorated with 151 hand carved and turned ornaments.
After a full year of work preparing the Rochester Woodcarvers project, a dedicated and active team sold "pre-event" raffle tickets and then a group of "Tree Advocates" assisted the Festival of Trees volunteers to sell 2109 raffle tickets to very kind and generous people. Those tickets sold generated
$10,545.00
for Hiawatha Homes.
Many visitors watched the eagerly anticipated raffle drawing to see if their name would be drawn. On Sunday, November 27, the winning ticket was selected and a Hiawatha Homes resident – Larry – won the prize!
A huge thanks to all the Rochester Woodcarvers who participated in preparing this year's project, sold tickets, and represented the club at the Festival of Trees. The Zumbro Valley Woodturners contributed many of the ornaments used this year and the Rochester Woodcarvers thank them for their tremendous support!
To see photos of the 2011 Carousel project, the drawing, and lucky winner, check out the following links:
2011 Carousel project at the Festival of Trees – click here
2011 Raffle drawing and lucky winner – click here
2011 KTTC-TV news coverage – Tree delivery – click here
To see photos of the carousel project construction progress, check out the following links:
To see YouTube videos of the construction progress, check out the following links:
2011 Festival of Trees video – February 28 – click here
2011 Festival of Trees video – July 1 – click here
2011 Festival of Trees video – October 26 – click here